warikoo Wanderings
You can share this newsletter on WhatsApp, Twitter, LinkedIn or view it on the web.
​
THE BEST (AND WORST) PART ABOUT WORKING IN A COMPANY
---
I have had the privilege of building several companies in the past 12 years.
I have also been a part of a few, while I was working.
And I have seen some companies up close, while consulting or mentoring them.
And it fascinates me till date, how some companies are able to grow and deliver consistent, supernormal growth.
And some just aren't!
Why is that the case?
First I thought - it is about talent.
If you have the possible talent and you pay them top salaries, you technically have the best input to win!
But there isn't that obvious correlation here.
You may be awesome, you may be paid a lot, and you still might not be happy doing what you are doing.
Then I thought - it is about the market.
If the market is awesome, even a poor performer can win.
It is like how the stock market has been in the past year, where everyone seems to have become a successful stock investor :)
But it is the market that is helping you.
Then I thought of other things, such as perks, culture, product, brand.
And of course all of these are important, just as talent and market are, as well.
But were they the leading indicator of success? I reckon no.
Here is what I think it is.
The people you work with.
The people you work with, the kind of teams you are a part of, how others make you feel at the end of everyday, is in my opinion, the single biggest determinant of a company's success.
Because it is tied to the most important input of success and growth - how do employees feel at the end of everyday!
Think about it - you may be paid top salaries, may be working with a top brand in an awesome market, and yet none of that matters, if your team and if your manager are horrible people!
And that is indeed true for so many of us.
Every single day, I get so many emails from people in jobs that are well paying, with great brands, in terrific positions, in so-called dream jobs, and yet they are unhappy.
Because their boss doesn't respect them.
Because their team members do not help.
Because people around them do not inspire.
Because the team is dysfunctional.
And in a world which is more and more about collective work and not individual contribution, the importance of finding the right teams and nurturing them, is paramount.
We just came back from our second offsite - from Rishikesh.
For 3 days, we ate, drank, slept and played together.
Got to know each other.
None of us are geniuses.
None of us are exceptional.
No two people are similar.
And yet we come together, because we work as a team!
Because people feel they can be themselves.
They feel respected. And they respect each other.
Nothing makes you feel better about yourself, than this!
So the next time you are looking for a job - do your research.
Don't just pick the highest salary or the best brand.
Ask during interviews - how do teams work, how does feedback flow, why do people leave, why do they stay.
Find out what it will be to live in this team, before you actually live in the team.
How you feel in your job, is going to matter a lot more than how much you earn in your job.
​(Share on Twitter)​
Here is a picture from our offsite :)
​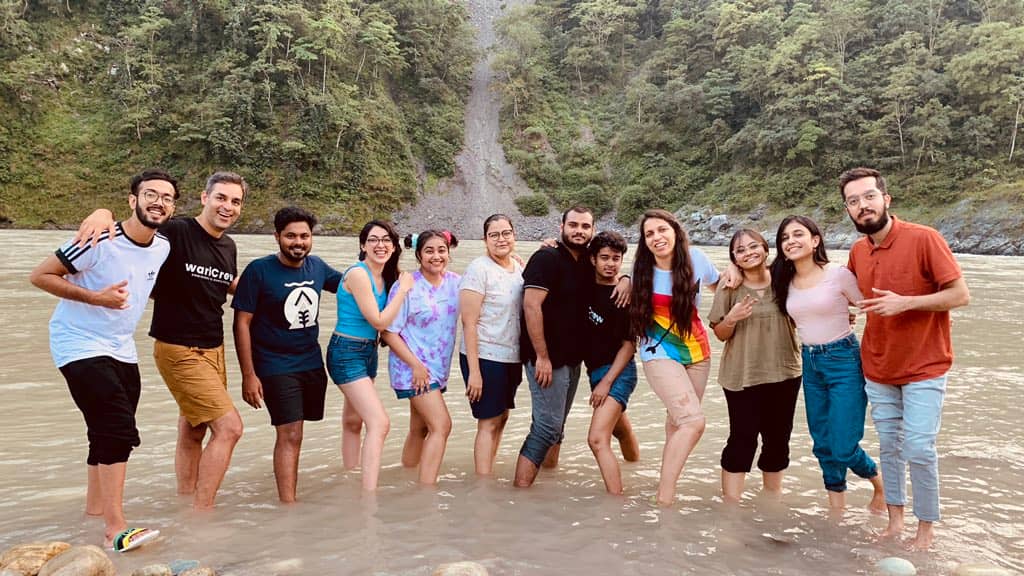 ​
I WAS LOST AT 24
---
This week's podcast episode is deeply personal and speaks about the time when I came back from the US, after dropping out of my PhD, at the age of 24. And had to start my life all over again.
You can give it a listen on Spotify, Amazon Music, Google Podcast, Apple Podcast, JioSaavn or Gaana.
​My podcasts are now on YouTube as well - because so many of you asked for it.
​
BOOK I AM READING THIS WEEK
---
So I finally finished ​Seeking Wisdom: From Darwin to Munger and it is such a terrific read that I am sure I am going to come back to it time and again. It surely gets added to my "read every year" list :)
Currently I am reading Harsh Realities - a fascinating autobiography of Harsh Mariwala - the founder of Marico (Parachute, Saffola, etc.)
In general, I really like the stories of company founders - there is something magical about their journey and how they traversed the path.
My favorite one is Shoe Dog - which is the story of Nike.
Another favorite is Finding my Virginity - the story of Richard Branson (founder of the Virgin group)
And The Hard Thing About Hard Things - the story of Ben Horowitz (founder of Netscape browser and a16z - the world's leading VC firm)
​
QUOTES TO SHARE
---
Disappointment is temporary. Regret is permanent.
​(Share on Twitter)​
If you are not disappointed in yourself, it doesn't matter who else is disappointed in you.
If you are disappointed in yourself, it doesn't matter who believes in you.
​(Share on Twitter)​
If you are at peace with who you are and where you are in life, you cut out all the noise!
While everyone still shouts, your peace silences all of them for you.
​(Share on Twitter)​
The one thing that has a high correlation with success, is curiosity.
​(Share on Twitter)​
Life becomes easier when you learn to accept the apology you never got.
​(Share on Twitter)​
​
SOME OF MY CONTENT FROM THIS WEEK
---
This is a new section proposed by a reader, where I share some of my content from last week.
​The one advice that changed my life (YouTube)​
​Making money as a college student (YouTube)​
​What is compounding (YouTube)​
​Top skills to learn before your 30s (YouTube)​
​How to handle interview rejection (Instagram)​
​How to build the habit of reading (Instagram)​
​Dropping out of college (Instagram)​
​
RESPONSES TO LAST WEEK'S QUESTION
---
Last week I asked you:
Where did you make your best friends?
School

College

Colony

Workplace

Online
Here are the answers, age wise:
Some things that emerged from this:
As you grow older, the share of college and school friends remains quite intact. Which hints to the fact that this is where most of us make our best friends

Workplace continues to rise, as we grow old - which does show that recency does play some role.

Online keeps reducing, which is also because 20+ years back there was on way to make friends online!

School and college are almost the same, once we are old. So interesting, isn't it?
​
THIS WEEK'S QUESTION
---
Who makes your investment decisions for you?
My parents

My spouse

My financial advisor

Suggestions from friends/coworkers

Suggestions from the world outside

Me, myself
​Click here to let me know your answer (anonymously)​​​
You can, of course, always write to me, by simply replying to this newsletter. I love reading all your emails, even though I may not be able to reply to them all.
Yes! I READ ALL MY EMAILS. ALL OF THEM.
​​(Compounding ki kasam!)
You can share this newsletter on WhatsApp, Twitter, LinkedIn or view it on the web.